Revolutionising Acute Myocardial Infarct (AMI) at Bart's Heart Centre
Summary
Ortus-iHealth revolutionises AMI follow-up at Barts Heart Centre.
Barts Heart Centre is one of the largest cardiac centres in Europe and globally recognised as delivering a highly effective, fast, and efficient service for over 80,000 patients per year who suffer a heart attack.
Barts Heart Centre has been using Ortus-iHealth since 2018. Since then, use of Ortus has expanded into a number of pathways including across cardiology and oncology. This case study explores the benefits and successes of Ortus-iHealth at Barts Heart Centre, for both patients and clinicians.
The Problems:
Barts Health Centre lacked the capacity to follow-up with patients consistently
Ensuring medication titration and compliance post-procedure is difficult
Impact of COVID-19 on face-to-face appointments
Inconsistent PROMs, PREMs and Vitals data
The Goals:
Increase follow-up capacity with heart attack patients
Improve medication titration and compliance post-procedure
Increase efficiency with outpatient appointments and shorter waiting times
Collect more patient data, monitoring and reporting PROMs, PREMs and Vitals
The Ortus Solution:
The team at Barts were able to address multiple factors that contributed to everyday challenges at the clinic. These included:
Appointment management because of high volumes
Clinical resource shortages
Patient DNA and patient access issues
Inconsistent and inefficient patient data collection
​By modelling standardised care pathways digitally and providing patients and clinicians with a digital platform with which they could monitor patients and communicate, schedule appointment, manage consent and provide patient education and information with, both parties where able to experience more productive and convenient consultations, saving time and boosting productivity.
Some of the tools used included:
Remote patient monitoring of both symptoms and vitals
Biometric, Proms and Questionnaire collection
Enabling of digital consent
Proactive delivery of Patient Access to key information
Virtual Wards and telehealth consultations
The Results
Increase in patients seen in clinics
Reduced post-operative discharge time
Reduction in DNAs
Increase in medicine titration and optimisation
Savings in time and increased efficiency vs. face-to-face
Designed and implemented a 24-hour discharge process during COVID-19
Results – Patients' Feedback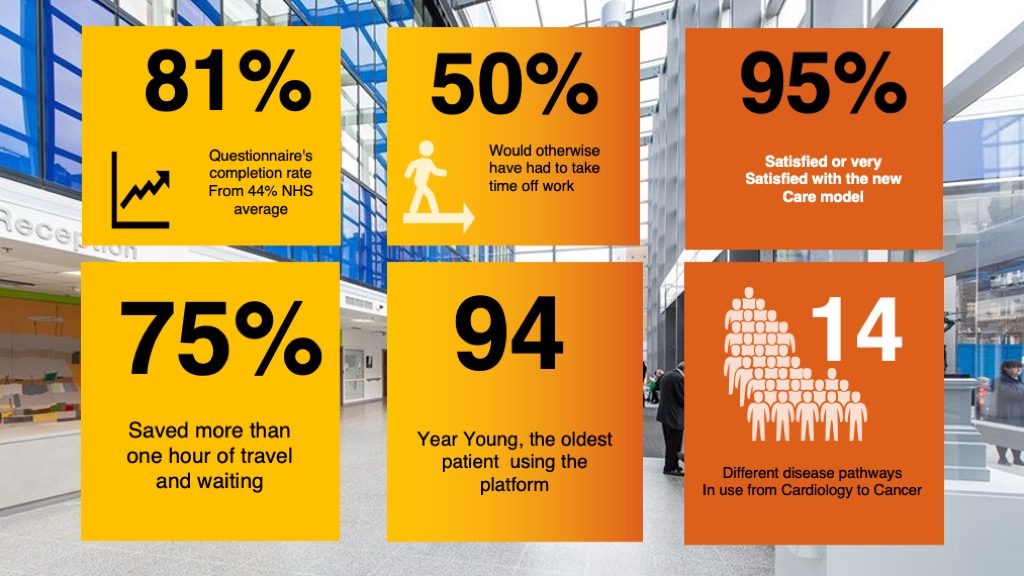 "All the outcomes that we routinely record after [treatment] are very clinically-based.
This gives us an opportunity to look at some metrics that are probably more important to patients: their quality of life, their symptoms, their observations, their medication.
That's all very easy to capture via the app [and that gives us the] potential for further research."
– Dr Dan Jones, Consultant Cardiologist, Barts Heart Centre
Results – Clinicians' Feedback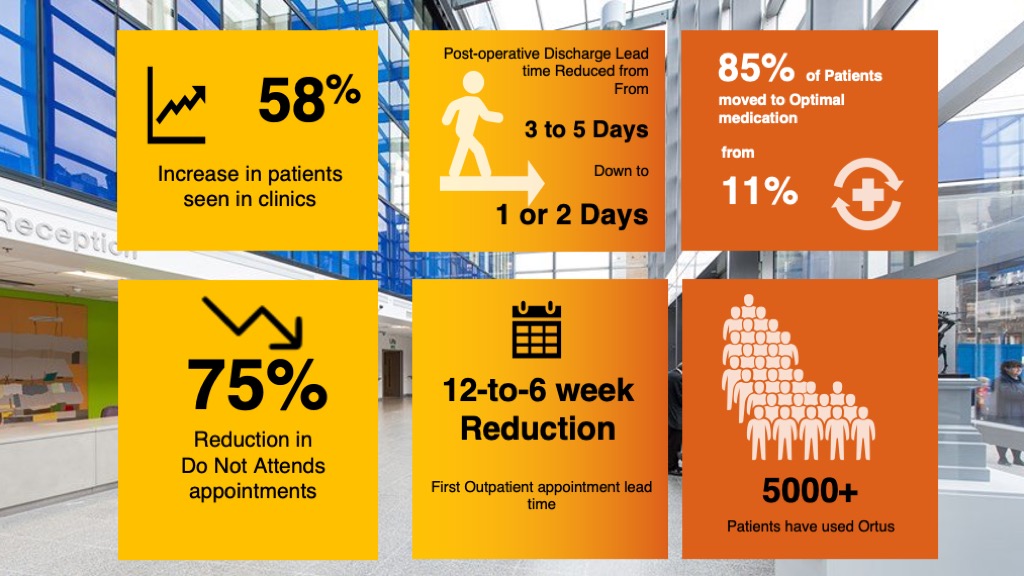 And on Medication
Prior to the remote monitoring only 11% of patients saw changes to their medication, after 88% of patients saw adjustments to the recommended dose.